In this April Edition of Blueprint we discuss the results from our annual Real Estate Marketing Survey. We will also cover news from Quarter 1 of 2009 and introduce you to Alicia Dubose from Detroit, MI.
Technology Usage in the Real Estate Industry: Do Men Do It Better? Does Age Make a Difference? The Answers are Here…
In our last issue of Blueprint, we asked you to complete our Annual Real Estate Technology and Online Marketing Survey. Just 10 simple questions about your real estate background and use of online marketing tools in your business. Your answers have now been tabulated and analyzed extensively, and the results may surprise you. Are men better with technology than women? Are younger agents more tech–savvy than older agents? Does technology make you more money?
Click Here to download the answers to these questions and more…
There's Always Something New at iHOUSE Web Solutions
IDXPro® is now available for 10 More MLSs!
We have been busy expanding our network of MLSs and our best-in-class IDXPro 3.0 MLS Search solution is now available for the following New MLSs:
California – Combined LA/Westside MLS
California – Orange Belt Board of REALTORS
Iowa – Boone Board of REALTORS
Kansas – Salina Board of REALTORS
Michigan – Midland Board of REALTORS
Minnesota – St Cloud Area Association of REALTORS
Missouri – Cape Girardeau County Board of REALTORS
Oklahoma – Oklahoma City Metro Association of REALTORS
Oregon – Southern Oregon MLS
Washington – North Central Washington Association of REALTORS
Are you a member of one of these MLSs? If so, mention Blueprint when you sign up before the end of April and you will save 50% on your IDXPro MLS start up Fee!
IDXPro is now using CA-RETS!
5 MLSs in Southern California have combined their listing information into a system called CA–RETS. We have just gained access to the complete CA–RETS data so IDXPro Clients in those MLS areas can now show listing information for all 5 MLSs. If you are in Southern California, now is a great time to Test Drive IDXPro MLS Search!
iHOUSE was at the RE/MAX® International Convention in Las Vegas
We had a great time visiting Las Vegas last month. iHOUSE Pay-Per-Click was recently approved by RE/MAX® as an approved product and we had a great time demonstrating its power to the RE/MAX® brokers. Congratulations to Janie Schriewer of RE/MAX® First Gold who won our booth prize of a free iHOUSE® Website for 1 year!
iHOUSEweb, Inc has been Accredited by the Better Business Bureau
If you have visited our website recently you may have noticed that we added the Better Business Bureau Accreditation logo. This represents our continuing commitment to high quality products and outstanding customer support. We have been given an A grade by the BBB!
Customer Close-Up: Alicia Dubose of Detroit, MI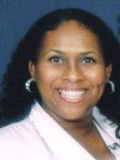 This Month's Customer Close Up features Alicia Dubose and her website www.duboserealtygroup.com.
Alicia DuBose is a successful Detroit, Michigan broker who owns her own company, DuBose Realty Group. Unlike the vast majority of REALTORS®, Alicia does not specialize in the purchase and sale of single family residences. While Alicia is a licensed broker and her associates are licensed agents, DuBose Realty Group specializes in Property Management. The thing that truly sets Alicia apart is her innovative and comprehensive marketing strategies that keep her at the top of the Detroit rental market.
iHOUSE® Tips & Tricks: Using MarketReach™ Lead Capture Forms
Did you know that MarketReach gives you two lead capture forms you can add to your website? Both are customizable, frameable, and can be used to automatically set up drip email campaigns. Learn more about using the Free Brochures Form.
Did you miss an issue? Check out our past issues here.