In our November Issue of Blueprint we will introduce you to the all-new iHOUSE Elite Websites®, the next generation of real estate websites.
iHOUSEweb CEO Paul Sheng on the NEW Elite Websites®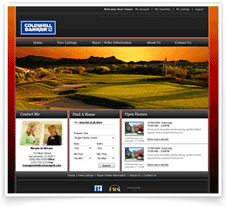 We are excited to announce the release of our all–new real estate website product, iHOUSE Elite Websites®. Elite Websites® are the culmination of innovative new technologies and our years of experience in online marketing for real estate professionals.
Paul Sheng, CEO of iHOUSEweb, says, "80% of real estate transactions are done by the top 20% of REALTORS®. The other 80% of agents are left to fight over the remaining business and, whether the market is good or bad, it's hard to really be successful. Elite Websites give agents the tools they need to break down those barriers and become one of those elite."
One of the primary ways that Elite accomplishes this is its flexible and intuitive design. According to Sheng, "The real estate industry has been lacking an essential product: a website system that is easy for any agent to use, whether she is tech–savvy or not, yet retains its capability for extensive customization and individuality. Elite Websites incorporate the ease of a template website with the flexibility of a custom website."
iHOUSE Elite Websites also apply cutting-edge technology to improve listing management and presentation. An Elite Website can pull an agent's listings straight from the MLS and add them to the website automatically. Large photo slideshows, video options, featured listings, and many more features display listings in style. Elite also automatically syndicates listings across the web to popular home search websites such as AOL Real Estate, Yahoo! Real Estate, Trulia, Zillow, Google, and more.
"With our easy to use websites, stylish designs, impressive listing management tools, and lead generating features such as IDXPro MLS Search, iHOUSE Elite Websites give agents the tools they need to become elite," says Sheng.
Learn more about the NEW iHOUSE Elite Websites by Taking a Free, No Obligation Test Drive!
There's Always Something New at iHOUSEweb
Announcing the All-New Elite Real Estate Website!
We are pleased to announce the release of our all-new real estate website product, iHOUSE Elite Websites®. Elite Websites combine our years of experience creating websites for REALTORS® with the latest technological innovations and truly remarkable designs. Be one of the first to Take a Free, No Obligation Test Drive!
iHOUSEweb was at the Texas Association of REALTORS® Expo in Dallas.
In September, iHOUSE attended the Texas Association of REALTORS® Convention in Dallas, Texas. We had a great time meeting a lot of you. Remember, we're proud to be a Member Benefits Partner of the Texas Association of REALTORS®, that's why Texas REALTORS® pay no startup fees on any iHOUSEweb product – Ever!
It is Always a Good time to Test Drive!
IDXPro (and Elite Websites®!) is Now Available for 6 More MLSs!
We have been busy expanding our network of MLSs and our best–in–class IDXPro MLS Search Solution is now available for the following NEW MLSs:
California – Madera County Association of REALTORS®
Colorado – Cortez Area Association of REALTORS®
Colorado – San Luis Valley Board of REALTORS®
Michigan – Water Wonderland Board of REALTORS®
Mississippi – Gulf Coast Association of REALTORS®
Washington – Whitman County Association of REALTORS®
Are you a member of one of these MLSs? If so, mention Blueprint when you sign up before the end of November and you will save 50% on your IDXPro MLS start up Fee!
Customer Close-Up: IDX Case Study

This month we've done something a little different with Customer Close–Up.
Here at iHOUSEweb, we believe that the best way to decide whether a product is right for you is to Take a Free Test Drive. But a Test Drive may not give you all the information you need. Sure it sounds good, yes it looks nice, but when push comes to shove, does it really work? To answer that question, we interviewed 3 REALTORS® who are using IDXPro. We asked them to share their experiences to give you a better idea of how IDXPro works for them and the kind of results it can generate… More
iHOUSE Elite Websites® Tips & Tricks
Did you know that iHOUSE Elite Websites® can add your listings for you? The new Auto-Detection feature detects your listings in the MLS and adds or updates them on your website automatically! All you need is the MLS number for one of your active listings!
iHOUSE Blueprint Poll
In the last Blueprint we asked, "Have you shifted your real estate specialty in response to the current market?" 60% of respondents reported changing their specialty in response to the market. Of those who changed, the most common new specialty was Foreclosures/Short Sales.
This month's survey question is: Do you think the $8000 First–Time Homebuyer Tax Credit program should have been extended?
(Poll is now closed.)
Did you miss an issue? Check out our past issues here.