In our April issue of Blueprint, we will introduce you to the New iHOUSE ELITE Websites® for Offices.
New ELITE Office Websites – 6 Websites in 1!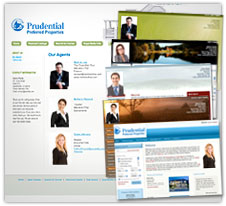 iHOUSEweb has just launched a new Office version of its all–new ELITE Real Estate Websites. The
New Office Website
for real estate brokers and multi-agent Offices includes all the great features of ELITE Websites® for Agents plus powerful tools for larger Offices!
The New ELITE Office Websites are complete office solutions that give agents in the office (not just the broker!) the web tools they need to be successful online. ELITE Office Websites include a main office site with an agent directory section and unlimited agent bio pages. In addition to the main website, each agent in the office can also get their own full ELITE Agent Website. The base package offers 5 Agent Websites in addition to the main Office Website, so it's like getting 6 websites in 1!
Each Agent Website is a comprehensive website with all the content, listing, and client relationship management tools of ELITE Agent Websites. And with the Office package, the main site and all subsequent Agent Websites work together to make managing the entire office's listings and leads a piece of cake. Every agent's listings can be automatically detected from the MLS and shared between the Agent websites and the main Office Website. The entire office's listings can also easily be syndicated to all the most popular home search websites like Yahoo Real Estate, Zillow, and more. Plus, leads are automatically assigned to agents based on the website or listing that generated the lead.
iHOUSE ELITE Websites® for Offices also include optional integrated IDXPro MLS Search. With this option, your main office website and all your Agent Websites have their own branded IDX search. Each IDX–enabled Agent Website gives the agent their own MLS search page, HouseTrack™ email listing updates, LeadTracker™ client relationship management and tracking system, and much more. Every agent in the office will start producing more online business!
New ELITE Office Websites® give the entire office the tools required for success online. Take a Free Test Drive to see how easy managing an entire real estate office can be! Sign up by April 16th and we'll waive half the startup fee! (Savings of up to $350)
There's Always Something New at iHOUSEweb
All-New Elite Websites are for Everyone!
Our all-new real estate website product – iHOUSE ELITE Websites® – now offers complete real estate marketing solutions for both individual agents and larger offices! All ELITE Websites come with loads of features designed to make the life of a real estate professional just a little easier. Take a Free Test Drive Today!
Sign up by 4/16/10 and get half off your startup fee (up to $350 in savings!)
IDXPro for Offices!
Have you heard of our IDXPro Office package? With IDXPro Office, you get one main office IDX search, plus 5 agent search pages! Each agent search is branded to that individual agent! Take a Free Test Drive of IDXPro Today!
iHOUSE Pay-Per-Click
iHOUSE Pay-Per-Click is designed exclusively for leading real estate professionals. It integrates Google and Yahoo! paid search with IDXPro MLS Search tools to give REALTORS® the highest visitor to lead conversion ratios of any paid search system.
IDXPro (and Elite Websites®!) is Now Available for 9 More MLSs!
We have been busy expanding our network of MLSs and our best-in-class IDXPro MLS Search Solution is now available for the following NEW MLSs:
California – Glendale Association of REALTORS®
California – Greater Antelope Valley Association of REALTORS®
Connecticutt – Greenwich MLS
Florida – Flagler County Association of REALTORS®
Florida – Hernando County Association of REALTORS®
Florida – West Pasco Board of REALTORS®
Indiana – Kosciusko County Board of REALTORS®
New Mexico – Roswell Association of REALTORS®
New York – Jefferson-Lewis Board of REALTORS®
Customer Close-Up
We're doing our April Customer Close-Up a little different than normal. Now that the New iHOUSE ELITE Websites® are out, we'd like to hear your ELITE stories! If you're using an ELITE Website, tell us about your experience!
iHOUSE Elite Websites® Tips & Tricks
Did you know that regularly updated and unique content is great for your search engine ranking? New iHOUSE ELITE Websites® make it easy to create your own material and keep it updated! Add unlimited listings, pages, pictures, and custom forms to make your website YOUnique!
iHOUSE Blueprint Poll
In the last Blueprint we asked, "Do you feel that helping homeowners with loan modifications gets you more business?" 68% of respondents claim that it does not generate more business.
This month's survey question is: How often do you update your website (listings, content, etc.)?
(Poll is now closed.)
Did you miss an issue? Check out other issues here.