In our July issue of Blueprint, we will present you with 12 website tips that will put you ahead of your competitors.
Download our New White Paper to Get 12 Easy Tips for Transforming Your Website!
There's Always Something New at iHOUSEweb
iHOUSE Elite Websites® Tips & Tricks
iHOUSE Blueprint Poll
Download our New White Paper to Get 12 Easy Tips for Transforming Your Website!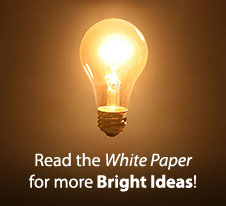 iHOUSEweb is committed to helping our clients and subscribers succeed with their online marketing. That's why we recently developed a white paper with tons of information on how to create a website that really works.
You are a real estate professional in the 21st century, which means a website is a marketing necessity. But, if you're like most agents, the thought of creating and maintaining your own website is very daunting. Where should you begin? What skills are required? How large will the time investment be? What's the difference between a mediocre website and a great website? These are just a few of the many questions that will run through an agent's mind when considering a website. We are going to try to answer as many of these questions as we can.
First of all, let's get one thing straight. A GOOD website is NOT an online business card. A basic website with virtually no content other than your contact information will not generate business, and is essentially wasted marketing dollars. A GOOD WEBSITE is a destination for homebuyers. It provides the resources they want and need during their home buying and selling experiences and it creates return visitors. It then converts these visitors into leads, aids in converting leads to clients, and gives clients the tools they need to complete their transaction. A destination website creates business and pays for itself many times over.
This article is all about how to create a powerful destination real estate website. We explain best practices, offer ideas, and for iHOUSE ELITE Website customers we'll even give step-by-step instructions on implementing these strategies. All of the concepts have been divided into 2 critical categories – Lead Generation and Lead Conversion, because even a destination website is pointless if it fails to achieve these two objectives.
There's Always Something New at iHOUSEweb
New! Flash Banners & Custom Graphics!
The New ELITE real estate websites now offer animated flash banners and the ability to upload your own custom banner graphic. If you want to really grab visitors' attention, try a new animated Flash banner. Or, if you want to make your homepage really unique and/or local, the custom banner option is perfect! Take a Free Test Drive Today to try the new banners!
ELITE Websites are for Brokers & Offices Too!
Our new iHOUSE ELITE Websites® offer complete real estate marketing solutions for both individual agents and larger offices! All ELITE Websites come with loads of time-saving, life-simplifying features. Plus, each ELITE Office Website comes with at least 5 full Agent Websites too! Take a Free Test Drive Today!
IDXPro (and Elite Websites®!) is Now Available for 23 More MLSs!
We have been busy expanding our network of MLSs and our best-in-class IDXPro MLS Search Solution is now available for the following NEW MLSs:
California – Sutter Yuba Association of REALTORS®
California – Yosemite Gateway Association of REALTORS®
Florida – Cape Coral Association of REALTORS®
Florida – Gainesville Alachua County Association of REALTORS®
Florida – REALTORS® Association of Martin County, Inc
Georgia – Hinesville Area Board of REALTORS®
Georgia – Valdosta Board of REALTORS®
Kansas – Topeka Area Association of REALTORS®
Louisiana – Bayou Board of REALTORS®
Louisiana – Natchitoches Board of REALTORS®
Minnesota – Itasca County Board of REALTORS®
New York – Chautauqua County Board of REALTORS®
New York – Elmira-Corning Regional Association of REALTORS®
North Carolina – Franklin Board of REALTORS®
North Carolina – Sanford Assocation of REALTORS®
Ohio – Western Regional Info. Systems & Technologies
Oklahoma – Duncan Association of REALTORS®
Oklahoma – Northeast Oklahoma Board of REALTORS®
Oregon – Central Oregon Regional Association of REALTORS®
Pennsylvania – Central Penn Multi List
South Carolina – South Midlands Association of REALTORS®
Virginia – Southwest Virginia Association of REALTORS®
West Virginia – Mercer-Tazewell County Board of REALTORS®
Wyoming – Campbell County Board of REALTORS®
Are you a member of one of these MLSs? If so, mention Blueprint when you sign up before the end of July and you will save 50% on your IDXPro Start Up Fee!
iHOUSE Elite Websites® Tips & Tricks
Did you know that the new ELITE Websites® allow you to create and edit pages offline? With ELITE's Published/ Unpublished feature, you can take your time creating the perfect pages for your website and only publish them when they're done! Your visitors won't see them until you're ready for them. Or, you can unpublish active pages to hide them (without deleting them)!
To Publish or Unpublish pages for your ELITE Website, login to your Admin Menu, click to Edit your site, and then click the "Pages" tab. Click the Published icon next to the appropriate page to turn it on or off instantly!
iHOUSE Blueprint Poll
In the last Blueprint we asked, "How often do you update your website (listings, content, etc.)?" The results were split evenly between "Once a week" and "I can't remember the last time."
This month's survey question is: In your opinion, are custom real estate websites worth the investment?