While the word "prospecting" may bring up images of the Gold Rush, it is also a term commonly used to refer to reaching out to potential new clients. After all, reaching new clients isn't easy, but when you do, it's like discovering gold! This white paper will explain why niche marketing using multiple targeted websites is an effective way of finding and converting new clients.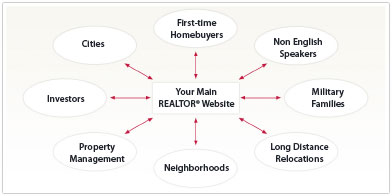 What Is Niche Marketing?
No two clients are the same. First, there is a clear distinction between buyer and seller clients. Some buyers are looking for their first home while others are looking for investment properties or vacation homes. Some have special needs, like military families, environmentalists, or families that do not speak English. Each of these groups is called a niche market. Using specialized websites for different niches lets you tailor your messaging more accurately, make it more relevant, and get higher return on your marketing investment.
Why Use Niche Marketing?
Niche marketing with multiple websites is very effective, so why is it so rare among real estate agents and brokers? The truth is that there is simply a lack of awareness of its power. However, the results cannot be denied and if you are willing to invest in effective marketing, there are great benefits.
Less competition. Real estate continues to shift online, making the Internet more congested and competition for traffic fierce. It is almost impossible for an agent to rank for search terms like "homes for sale in Florida" or "Florida Realtor". There are just too many agents competing for the same words. Competing for niche keywords is typically much easier. For example, the phrase "homes for sale in (your city)" is not searched for nearly as often as "homes for sale in Florida". Similarly, "vacation homes for sale in (your city)" is searched for even less frequently.
Though fewer searches may seem like a bad thing, it's not. It fundamentally means less competition and a higher chance that you will be found.
Greater Authority. By targeting specific niche audiences, you can tailor your message to their specific interests while also becoming an authority to the niche. For example, let's say there is a local subdivision that is very green. If you want to do more business in that subdivision, you should market yourself as a green expert who knows all there is to know about these homes. An environmentally friendly family would much rather choose a green real estate expert over some other REALTOR® who has never made an effort to master their market.
When you create highly targeted content, the search engines will also notice it. So when homebuyers and sellers search for those terms in Google or Yahoo!, you will dominate the rankings.
Examples of Niche Markets
First-time buyers
Foreclosure markets
Vacation & second homes
Foreign Language Speakers
Cities
Counties
Subdivisions
Neighborhoods
Green homes
Luxury homes
Military families
Seniors
Pet owners
Lots & Land
Renters
How To Set Up a Niche Marketing Strategy Using Multiple Websites
First identify the niche markets you want to target. Think about your area and what makes sense for you. You obviously won't target military families if there is no base nearby.
Once you've identified the niche audiences you want to target, you need to develop a content strategy for your websites. Here are some questions that will help you develop a sound strategy for addressing your niche markets.
What is this niche market interested in?
Think about what information they will be interested in reading about on a real estate website. For example, if one of your niche markets is vacation homes, consider writing about activities near you that vacationers enjoy. Write about local hiking trails, surfing spots, museums, historic sites, spas, weather, restaurants, and other local hot spots. Including your area's Walk Score is another fun thing that potential clients will appreciate. You're not only selling a vacation home, you're selling a vacation destination. Plus, it's a great opportunity to exchange links with other local businesses! (Which is SEO gold!)
What are their special real estate needs?
Consider what information or service you can offer them that is specific to their needs. For example, a military family may need information on specific government programs. A homebuyer focused on a specific county will want detailed information about just that area. An environmentalist may want to know a home's efficiency rating or about air quality.
What are some keywords that this niche would use when searching for real estate services?
Once you know what a niche group is interested in and what their specific real estate needs are, do some keyword research. When they are looking for real estate services, what words do they use? For example, people looking for a green home will use different terms, even if they mean the same thing, i.e. "green", "efficient", "energy star", etc. This tool from Google will help you create a list of keywords that you should target in the content of that niche's specialized website.
How do I deliver my message to them?
This is an extremely important aspect of any niche marketing plan. What good is custom content if your target audience never sees it?
Multiple Highly Targeted Websites. Developing multiple, compact and separate websites allows you to address niches directly. Do not just add a page to your existing website for each of your niche markets. That will only confuse your visitors with dozens of different messages. Niche marketing is about targeting a subgroup of your audience. One website that tells everyone that you do everything does not establish you as an authority for a specific niche group.
When developing targeted websites, it's important for the content of each site to be unique. Customize the key pages and content for the niche. Skipping this step can hurt your search engine ranking (instead of helping it) and your message won't be as powerful or effective.
One popular multiple website strategy is to develop sites for each county you serve. Each website has specific, hyperlocal content for that county. Also, the IDX MLS Search should be limited to properties in that county. When you distribute offline marketing materials in that area, you can send visitors to the niche website with all their local information. This targeted strategy is effective for gaining ranking in the search engines and building relationships with local residents.
Did You Know?

IDXPro® can limit MLS search results to specific counties and/or cities.
Case Example
A good example of niche marketing using multiple websites can be found in Utah County, where Broker Kristine Partridge practices. Kristine specializes in REO, short sale, and foreclosure listings so she decided to separate those markets into targeted websites. Her main website, www.simplechoicerealestate.com, then links to each of her targeted niche sites. For example, the Foreclosure Help button on her main site links to one of her niche sites, www.househelputah.com, which focuses on offering information for homeowners facing foreclosure. By sending visitors to this niche site, she can customize the messaging and lead generation form to something relevant to her niche market. Instead of a generic search for homes or contact form, she utilizes a niche-specific "Request a Short Sale Consultation" form. This is a great example of how proper niche marketing using multiple websites can lead to better performance and more business!
| | |
| --- | --- |
| | |
"I decided to split the websites since I am marketing to different groups of potential clients. It gives a more professional appearance and shows that I am the expert for that particular client. The Elite Website broker package is an affordable, simple solution for my needs and has allowed me to have the professionalism that I need!"

–Kristine Partridge
While maintaining multiple websites may sound labor intensive, it really isn't. Once you develop your niche content, the rest is easy. The new ELITE Websites are very customizable and work well as niche websites. Make the home page look custom by uploading a unique, niche-specific graphic. Also, it is easy to limit the built-in IDX MLS Search to specific areas. You can even set up Saved Searches based on the niche you are targeting. So Take a Free Test Drive of an ELITE Website and see just how fast you can customize it for a specific niche market!
Conclusion
Now that you know what niche marketing with multiple websites is and how to use it effectively for your real estate business, develop a cohesive plan for executing your new marketing strategy. If you think carefully about how to reach out to your unique clientele, you'll be surprised by how successful your various niche websites will be!