Introduction
You are a real estate professional in the 21st century, which means a website is a marketing necessity. But, if you're like most agents, the thought of creating and maintaining your own website is very daunting. Where should you begin? What skills are required? How large will the time investment be? What's the difference between a mediocre website and a great website? These are just a few of the many questions that will run through an agent's mind when considering a website. We are going to try to answer as many of these questions as we can.
First of all, let's get one thing straight. A GOOD website is NOT an online business card. A basic website with virtually no content other than your contact information will not generate business, and is essentially wasted marketing dollars. A GOOD WEBSITE is a destination for homebuyers. It provides the resources they want and need during their home buying and selling experiences and it creates return visitors. It then converts these visitors into leads, aids in converting leads to clients, and gives clients the tools they need to complete their transaction. A destination website creates business and pays for itself many times over.
This article is all about how to create a powerful destination real estate website. We explain best practices, offer ideas, and for iHOUSE ELITE Website customers we'll even give step-by-step instructions on implementing these strategies. All of the concepts have been divided into 2 critical categories – Lead Generation and Lead Conversion, because even a destination website is pointless if it fails to achieve these two objectives.
Lead Generation
Lead generation is the absolute most important reason for existence of any website. What's the point of a website that doesn't create more business for you? There is none! As with any marketing strategy, a website needs to provide a solid return on your investment.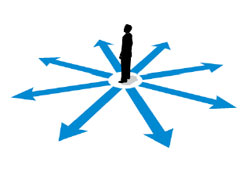 The key to lead generation is providing your website visitors with something that they are actually interested in. First, identify who your website is targeted to. Homebuyers? Sellers? Homeowners? All of the above? This will vary somewhat due to your specific business plan, but for many of you, all of the above is probably the most correct answer. So now you need to ask yourself, "What are my visitors interested in?" Once you've answered that question, you can start coming up with content that will address those issues. If you have content that reaches out to your visitors, they will be more willing to reach out to you by registering or contacting you, thus becoming LEADS.
Sounds simple, right? Well, it's actually a lot more difficult than it sounds. There are a lot of real estate websites on the Internet and you need to distinguish yours from the rest. You need to give your visitors something unique, something they can't get from any of your competitors. Sounds a little more difficult now, right?
Here are some ideas that will get you started.
MLS Search
We just can't emphasize enough the importance of having a quality MLS Search on your website. Your website visitors are predominantly homebuyers and sellers, and the #1 thing they want to see is LISTINGS. By including an MLS Search tool on your website, you're providing your visitors with every listing in the area. By using an IDX Search tool, you're providing those listings in a format that's easy to use and provides additional lead conversion tools like the option for searchers to save their favorite listings.
As much as you'd like to think that including an MLS Search on your website guarantees that the leads will start streaming in, that's not always the case. (Though sometimes it is!) To get the most from your MLS Search, you need to show people where to go, and what's in it for them. Here's a few smart ways to do this.
Did You Know?

IDX Stands for Internet Data eXchange, but can also be called Broker Reciprocity. IDX enables REALTORS® to display property listings from their Multiple Listing Service (MLS) online.
Homepage Search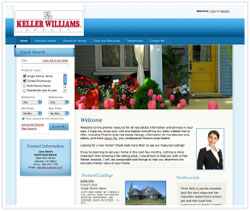 Integrating your IDX MLS Search onto your website homepage is a great way to funnel visitors to the content they're searching for – listings! By including a homepage search, you prevent people from quickly bouncing off your site because they didn't see what they were looking for. You're also demonstrating how useful and easy-to-use your website is – 2 very important qualities for Internet users.
The difficulty of incorporating an MLS Search module on your website will vary depending on your individual site. With most template website providers,this is not an option. For custom web developers, it is possible as long as you can acquire the listing data from your MLS board.

ELITE Website Clients: Did you know that if you have a Pro package, meaning you have integrated IDXPro, you can easily add a Quick Search module to your homepage?
To add a Quick MLS Search module to your homepage:
Login to your Admin Menu.
Click on Edit Website.
Click the Edit This Page link on your homepage.
Click Add new content in the module where you want your search. (The Quick Search module may not appear in some columns due to width restrictions.)
Select the Quick Search module.
Save!
We recommend you add your Quick Search "above the fold" – which means the higher up the better!
iHOUSE Tip!

The colored icons to the left of each ELITE Websites tip indicate the difficulty level of implementing an idea. Red is hardest, orange is intermediate, and green is easiest.
Don't Be Shy!
Your website visitors are interested in real estate, which is why they're on your website to begin with. So don't be shy with your MLS Search page. Don't just hide it somewhere in your navigation. Adding a search module to your homepage is important, but for those of you who want to go the extra mile, do something else on your homepage that points out your search even more. Guiding visitors through your site will improve their experience and show them that you understand their needs. Plus, by channeling visitors to your IDX search page, you will convert more of those visitors into leads!

ELITE Website Clients: Did you know that you can create an image, similar to the one pictured here, that will attract more attention to your lead generating IDXPro Search?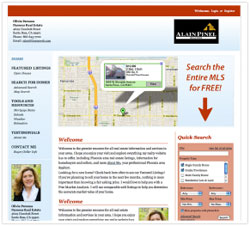 To create your own MLS Search banner:
Take a screenshot of your IDX MLS Search page.
Using any simple photo editing software, add text or other graphics to it.
Save your new custom image.
Login to your Admin Menu.
Click on Edit Website.
Click the Edit This Page link on your homepage.
Click Add new content.
Add a new custom content module.
Upload your image to the file library.
Add it to your new module.
Save it… and voila! – you now have your own custom graphic that channels visitors to the listings they're looking for!
Custom Search Links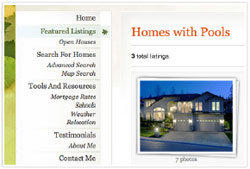 If you use an IDX search tool, another great way to catch visitors' attention is to have links that take them directly to the exact listings they would be searching for, without them actually having to do the search. How is that possible? Custom Search Links, which are basically links to saved searches. Let's say you notice that 7 out of 10 of your homebuyers search for a home that's 3 bedrooms, 2 baths, and under $300,000. Why not feature those listings up front?



ELITE Website Clients: Did you know that adding custom search links like these to your Elite Pro Website is easy?
To add a new custom search link:
Login to your Admin Menu.
Click on Edit Website.
Go to one of your IDX MLS Search Pages (Quick, Map, or Advanced Search).
Perform a search, and Save it.
Click the Pages tab on the Edit Mode bar at the top of the page.
Click Add a saved search page.
Enter a page name.
Select your search from the dropdown menu.
Save!
Now just go to the Navigation tab to reorder it. Or, try adding a new content module on your homepage with popular searches (or try creating searches with fun results that people might just enjoy looking at, such as beach properties or other high-end listings!)
Remember, these tips for directing visitors to your MLS Search page work best when you have a lead generating IDX system. IDX tools like IDXPro keep YOUR visitors on YOUR website, brand the MLS to you, and have numerous ways of converting traffic to leads. If you do not use IDX and instead are linking to REALTOR.com or using a free search link provided by your MLS, you may want to think twice about funneling visitors to those pages. Instead of taking them to the best lead conversion section of your website, you would be guiding them OFF your website, to someone else!
Original Content
One of the best ways to distinguish yourself from other REALTORS® in your area is to offer unique, original content. If every other agent in your area has a simple website with no unique content, not only will they not be rewarded with high search engine ranking, but their websites will also be indistinguishable to homebuyers.
By offering information and opinions that are thoughtful, knowledgeable, and relevant your services will stand out. This type of unique content can be found in many forms, from blog posts, original videos, links to other relevant resources, and the list goes on.
Blogging
Having a Blog hosted on your website is the best way to get your Real Estate website seen. Using Services like blogger.com and wordpress.com won't directly help your Real Estate website since the blog is not hosted by your website provider. Creating original content that's relatable to your Real Estate Company will help you boost your SEO rankings. It is critical to you being found for the right keywords. Make sure that the words in your post match up with your Post Title and Post Tags. Make effective use of headlines by adding the heavy weight keywords you want to be found under to the headlines of your post.
Widgets
First of all, let's clarify what we mean by "widget", since the word means a lot of different things to different people. According to economists, it's an abstract unit of production. According to video game players, it's a 1990 Nintendo video game. It's also a Marvel character, that thing in cans of Guinness that manages the beer's foam, and myriad other things. But in this context, widget means "a small, portable application or piece of dynamic content that can easily be placed into a Web page".1
Online widgets can be found for almost anything these days and there are a lot of great widgets that cater specifically to real estate agents. Adding these widgets to your website can enhance your content offering in a dynamic and interactive manner.
Let's explore some of the most popular widgets and their functions.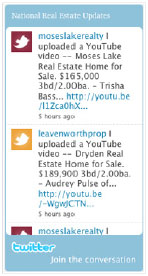 Social Media widgets include Facebook and Twitter tools. 84% of REALTORS® use social media to some extent2, which makes Facebook and Twitter widgets extremely applicable to a real estate website. If you are already utilizing social media as a marketing strategy, you should get the most out of it. Facebook and Twitter apps can help you do this by connecting web visitors to your social media presence as well as connecting social media users to your website. Both Facebook and Twitter offer various widget options and customization. To learn more about these widgets, visit the links provided below.
https://developers.facebook.com/docs/plugins/
https://blog.twitter.com/2012/embedded-timelines-howto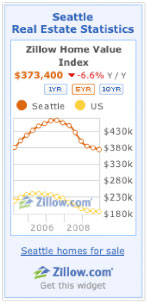 Listing Display and Search widgets are available from a variety of sources, but the most prominent are Trulia and Zillow. These two websites have become wildly popular among homebuyers, sellers, and real estate professionals nationwide. Not only do they offer their own listing database search, but they have their own forums and communities and dozens of widgets to choose from. If your listings can be found on Zillow or Trulia, you can use their widgets to add slideshows, quick listing search boxes, lists of recently sold homes, and much more. To learn more about these widgets, visit the links provided below.
http://www.trulia.com/tools/
http://www.zillow.com/webtools/widgets/
Market Conditions & Other types of widgets can also be used to enhance your website content offering. For example, you can also use a Zillow widget to provide home values, interactive polls and quizzes, and fun things like a list of expensive homes that will attract homebuyers and sellers to your site. If you are a member of the ActiveRain online real estate community, you can share your profile on your website. Another site to check out if you're looking for the perfect widget is Widgetbox, which has a ton of widgets to choose from.
http://activerain.com/blogsview/455028/activerain-associates-widget-promote-your-ar-friends-onyour- website-and-blog
http://www.widgetbox.com/tag/real+estate
Widget Wielders Beware! Keep the following in mind when adding external widgets to your website. Always have a plan! Never add widgets to your website just for the sole sake of having widgets. Think about what you're trying to achieve with the widget and how it will help you reach that goal. Examine the widget carefully before implementing it to ensure that it functions as you want it to. Many widgets will link back to their source website and may "steal" your website visitors out from under you!



ELITE Website Clients:
Did you know that adding widgets to your Elite website is a snap?
Once you've found the right widget for you:
Copy the code that is provided. It will usually tell you exactly what to copy and paste onto your site.
Login to your Elite Website and enter Edit Mode.
Navigate to the page you want your widget.
Using the WYSIWYG (What You See Is What You Get) editor, click the Source button. This will show your content in HTML mode. Don't panic!
Click the Pages tab on the Edit Mode bar at the top of the page.
Look for the area where you want the widget and paste the code there.
Click Save and you're done!
If you want to add your widget to your homepage, you will probably need to create a new custom widget first to place your widget in.
iHOUSE Tip!

iHOUSE Customer Support is available 7 days a week to help with things like this!
Unique Pages
Over the years, the algorithms that search engines use to rank web pages have drastically evolved. Now, one of the best ways to get top search engine rankings is to have relevant AND unique content. Why do search engines love unique content so much? It basically comes down to the fact that Internet searchers love unique content. When we perform a search in a search engine, we don't want to find the same content over and over again. We want unique and relevant results. And since the search engines exist to give us the best results possible, they filter for original content.
As the SEOmoz video explains, unique content generally falls into one of three categories: editorial, machine-generated, or user generated. For most real estate professionals, the focus of your website content strategy will be unique editorial content, meaning you will be creating and writing the content yourself. Sound intimidating? It probably does, but it doesn't actually have to be all that difficult. Let's cover how to get started.
First of all, you need to have ideas about what you want to cover. Do a quick brainstorm on topics and star your favorite ideas. Remember to always keep your content relevant to your website topic (real estate), but also bear in mind that you have a lot of flexibility within that topic. Content that focuses on your specialties, local area, and expert knowledge are a good place to start. We've compiled a list of broad topics that should help guide your thinking, but don't hesitate to get creative!
Did You Know?

www.seomoz.org is one of the best SEO resources on the web. Watch their video on generating unique content. It's easy to understand (mostly!) and will help you develop a plan for your site!
Category
Advantage
Examples
Local Information
Specifically targeted to homebuyers and sellers in your area, or those planning on moving to your area. Less competition for this content because it it local.
Neigbhorhoods
Activities
Events
Schools
Weather
Market Reports
Tips & Tricks
Real estate specific content that is useful to your target audience. Can easily integrate keywords.
Staging
Financing
Maintenance
Open Houses
Referrals
Build reciprocal links with other members of the real estate industry. Very good for SEO purposes.
Mortgage Brokers
Inspectors
Maintenance Companies
Out of the Area Agents
Landscapers
Contractors
Specialities
Keywords related to specialties tend to have less competition in the search engine results page, meaning it's easier to get better placement for these terms.
Foreclosures
Short Sales
Vacation Homes
Retirement Communities
Now that you've decided what to cover, it's time to start writing. As you write, think about your target audience. (And no, your target audience is not search engines! It's your prospective clients – people interested in buying or selling a home in your area.) How does the content you are writing help them with their home buying or selling experience? Be specific.
Though your editorial content is targeted to your human visitors, try to slip in some content that your mechanical visitors (search engine spiders) will appreciate too. For example, use your keywords in the content you are writing. This will help you get better ranking for those keywords. But do not over saturate your copy with keywords, making it difficult for human readers to comprehend. And if you're adding images to your pages, always add descriptive, keyword rich alt tags if possible.

ELITE Website Clients: Did you know that you have an unlimited number of pages available to you? That means you can create as much original content as you want!
To create a new blank page to work your magic on:
Login to your account and enter Edit Mode.
Click the Pages tab in the Edit bar at the top of the page.
Click Add a custom content page.
Enter a brief yet descriptive page title, and start creating your content!
Use the add image button to upload graphics to your file manager and add them to your page.
Publish the page when you're ready for the world to see it!
Hint: It may be easiest to write your content in Word and then just copy and paste it into the Elite content manager (a.k.a. WYSIWYG editor).
Did You Know?
More searches are performed on YouTube than on Google? 3
Video
This entire online video section could be summed up in two words: DO IT! Since that alone is probably not very helpful, let's talk about five broad reasons to include video on your real estate website.
5 Reasons You Should Be Doing Online Video:
Online Video creates a personal touch. When visitors feel like they know you and like you, you'll have an easier time getting them to work with you.
Online Video is exciting! Stand out from the crowd with an interesting and interactive website.
Online Video indicates expert knowledge of both real estate and the Internet that will extend to helping the visitor buy or sell a home.
Online Video increases visitor traffic to your website. It's a simple truth: video is a great way to get more visitors from the search engines.
Online Video is just HOT! Internet users just can't get enough video. YouTube alone has over 300 million users.
Now that we know why adding video to a website is good for generating new business, let's talk about some content strategies that will allow you to get the most from your video.
Common Real Estate Video Content Strategies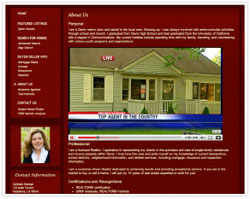 1. Listing tours. Buyers love listing tours and there's no better way to present a tour than with video. Some agents record themselves in front of the listing, introducing the property, and then narrate while the video goes through the home. Or, if you're not comfortable being on camera, you can just show off the property!
2. Introduction to yourself and your services. This is a great strategy if you want your visitors to get to know you. Set yourself apart by talking about your background, your specialties, services you provide, and even your local area. Create that personal connection that will make your name memorable.
3. Guide visitors through your website. Another common video strategy for real estate agents is to be a tour guide of sorts. Show people around your website, explain what you have to offer, why a visitor should register on your page, where to find listings, and more.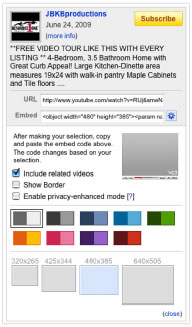 These are just a few topic ideas for your new video, but there are endless opportunities! Create a video tour of a neighborhood, showing off local parks and other amenities. Or, create a "commercial" for your city, including shopping, resident demographics, activities such as annual fairs or weekly farmers markets or hiking trails. Be creative and be true to you, your specialties, and your local area.

ELITE Website Clients: Did you know you can add YouTube videos to any custom content page or module?
To add video to your website:
Upload your video to YouTube. For help uploading your video to YouTube, we recommend that you watch this tutorial.
Copy the Embed Code. This is found to the right of the video, where you can also adjust your border, colors, and other settings.
Login to your Elite Admin Menu.
Enter Edit Mode and go to the page you want to add video to.
Click the 'edit this page' link and you will see the edit screen with the content editor.
Click the Source button on the right side of the content editor menu.
Paste the code you got from YouTube in the spot you where want your video.
Save your changes. You're now ready to watch your YouTube video without leaving your website!
Note: Your video does not need to be on YouTube in order to add it to your website. It simply needs to be hosted on any video site, such as Yahoo Video, Vimeo, etc.
Custom Forms
Customizable contact forms are not new to the real estate website industry, but it's surprising how many agents do not utilize them. 99% of your website visitors will not fill out a "Contact Me" form just because it's on your site. You need to offer visitors something that they value and custom forms are an easy to implement strategy that offers visitors something of value while obtaining leads. And it's important to remember that you're not only getting leads, you're getting information; information that you can use when you follow up with these prospective clients.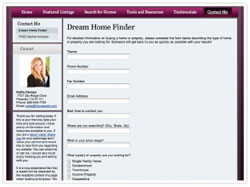 So how do you create a customizable form that gives you information you can leverage for converting more leads into clients? Forms such as a Dream Home Finder for buyers or a CMA (Comparative Market Analysis) for sellers are pretty standard in real estate these days. These are good examples of quality forms because they give visitors an enticing reason to fill them out. Plus, they also give you information you can use to provide resources that your visitor will truly appreciate. These are just two examples of how to utilize forms on your website.
Additional ideas for utilizing custom forms on your website:
Local market performance statistics
Offer to send visitors a relocation package, including local information and moving tips
Give visitors the option to signup for your newsletter (Don't have a newsletter? Start one! Offer staging tips, market information, Local business gems, events, real estate news, and more!)
Take these basic principles and think about other ways to use forms to get more visitors to contact you! Just remember to always make it easy for visitors to reach you – for any reason. If you don't make it easy, you won't be contacted.



ELITE Website Clients: Did you know that Elite makes it easy to create an unlimited number of custom forms on your website?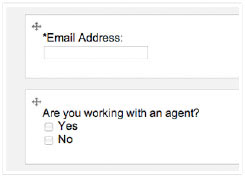 To create a custom form:
Login to your Admin Menu.
Click on Edit Mode.
Click on the Pages tab.
Click the Add a new custom form link.
Start creating your own questions. Choose from multiple choice, free response, and many more options.
Save and publish your page and you're ready to go!
Lead Conversion
Lead generation is critically important on any agent's website and the prospecting methods mentioned in the previous section will definitely help. However, it's also important to not get too focused on lead generation to the exclusion of all else. Getting tons leads will do NOTHING for you if you do not convert those leads into clients (and consequently commissions!). This is why creating and implementing a comprehensive LEAD CONVERSION STRATEGY is just as vital as lead generation.
Relationship Management & Tracking
In 1597, Sir Francis Bacon wrote "Knowledge is power". That statement is just as true today as it was then. When working with clients, knowledge of what a homebuyer is looking for is invaluable. Knowing what features they want, what area they're looking in, and what their price range is gives you an impression of what's important to them and allows you to focus your energy on the listings that they are most likely to want.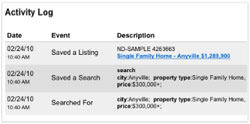 It used to be the case that you would have to talk to a homebuyer first in order to discover that valuable information. However, now technology allows you to immediately know what a homebuyer is searching for in the MLS, meaning you can have that information ready before you actually have a conversation with them. What does that mean? It means you are more efficient when dealing with new leads AND you make a better impression when you talk to them.
Common situations where this information is helpful:
You can't reach a homebuyer. Whenever you call, they aren't available. Well, when you know the time of day that a homebuyer is usually searching for homes, you can customize your strategy to reach the homebuyer at a time you KNOW they are available.
A homebuyer has viewed the same listing repeatedly. You notice that a homebuyer has returned to your MLS Search page to view the same listing they saved a week ago. Well, you know that they are obviously interested in that specific home so you can contact them offering to setup a viewing.
A homebuyer is searching for very specific features. The more focused the homebuyer is, the closer they tend to be to purchasing. Offer to setup showings or send other listings that you know of that match their search criteria. That service is invaluable to a homebuyer!
Several high-end IDX MLS Search tools now offer tracking information similar to what is mentioned above. These tools are also beneficial in that they can help you track your communication with leads. The best IDX search tools offer some amount of CRM (Client Relationship Management) functionality, such as email, flagging, and custom notes. If your IDX search tool includes these features, it will more than pay for itself due to the increase in the number of leads you can convert into commissions.



ELITE Website Clients:
Did you know that the ELITE Website with built-in IDXPro (ELITE Agent Pro or Office Pro packages) provide this type of tracking information?
To view the MLS activity of your leads:
Login to your Admin Menu
Click the LeadTracker button
To view all of your leads, clik the Client Database link. Or, to view all of the activity on your MLS Search, click the Client Activity Report link.
Listing Emails
9 out of 10 of your website visitors are there for one reason: to search for their new home. As we discussed earlier, you need to provide a comprehensive MLS Search on your website and make it easy for visitors to find it. If you don't, they will go to a competitor's website that does provide the listings they are looking for.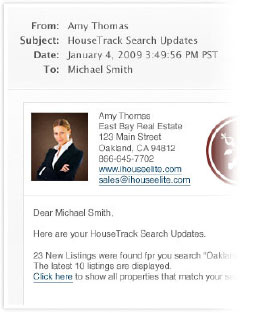 Since we've already discussed the importance of a quality IDX MLS Search, let's assume you have successfully incorporated a powerful lead generating MLS Search on your website. That's great, but you can't stop there. Now you need to convert those leads into sales. How do you do that? Well, start with something that you know works… listings! After all, it's how you got the lead, so why wouldn't it work? Follow-up with leads by providing them with listing update emails. Search the MLS and send your leads periodic emails about new listings, updated listings, and hot buys that the homebuyer may be interested in.

ELITE Website Clients: Did you know that your ELITE Website with built-in IDXPro can send email listing updates automatically? When visitors save a search on your MLS Search page, they have the option to receive HouseTrack™ automated listing update emails. The HouseTrack™ system automatically searches the MLS for listings that match the homebuyer's search criteria and sends regular email updates. All emails include your branding and link back to your website, meaningyour name stays at the top of their mind. These emails are a great way to keep your website visitors coming back to your site and they're so easy to implement – you don't have to do a thing!
Following Up
This is perhaps the most significant thing you can do to increase the number of leads you convert to clients: FOLLOW UP WITH EVERY LEAD! ASAP! If you don't try to get in touch with your leads, they won't become your clients. They will not pursue you. If you are unresponsive, homebuyers will move on to find someone who is responsive. So always follow up with leads. The more prospects you talk to, the more business you will generate.
Response time is also critical. The sooner you respond to homebuyers and sellers, the more constructive your conversation will be. If someone fills out a form on your website and you wait a week before you respond to their inquiry, they may not even remember you. And if they do, it sends the message that even if they were to become your client, you cannot provide the support they need. No one wants to work with an agent that is too busy to even talk to them. Communication is important, and it's important to start off on the right foot. According to a California Association of REALTORS® survey, when homebuyers were asked why they were satisfied with their agent, the most common response was "always quick to respond".4
After you make initial contact with your leads, add them to a drip email campaign. You can send them market information, real estate news, home buying and selling tips, or anything else that is relevant. Showcase your expertise and the high level of service you offer and keep in contact with leads. You'll be surprised how well it can pay off months down the line!
Brokers & Multi-Agent Offices
If you are a broker or a member of a real estate team, it is important to ensure that every member of your team presents a positive and professional image to prospects, clients, and the community. Not to mention that every member of the team should pull their own weight.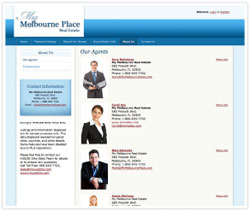 Many real estate website providers offer group discounts or office solutions for the entire company. However, before you choose a website for your entire office, do your research! Many office solutions really only include a few extra broker tools over what is provided in their single agent products. ELITE Websites™ on the other hand, come with an office website and complete websites for the individual agents in the office. The office and agent websites work together to make listing and lead management easy for the entire office and their listings. But, like any other website product, you should do your research before purchasing! Take a Free Test Drive of ELITE Office to try it out yourself before buying, and then share this document with your colleagues so they have the resources required to create an outstanding website of their own!

ELITE Website Clients: Did you know that ELITE Office Websites come with at least 5 additional websites for individual agents in the office? The main office website includes an unlimited Agent Directory section, automated lead assignment, and can share listings with the Agent Websites. Agent Websites can be customized to fit the agent's individual needs and include all the same great features of a regular ELITE Agent Website.
To add an Agent Website to your ELITE Office Website:
Login to your Admin Menu.
Click the Agent Websites button.
Click the Add a new Agent Website link.
Enter your agent's information.
Submit!
Your agent now has their own website to generate new business with – and it didn't cost you a thing!
Conclusion
The ideas included in the previous pages can undoubtedly help you improve your website and your business, but it's important to keep in mind that this is just the beginning – a little time and creativity on your part can take these ideas to a whole new level! The more unique and helpful your website is, the more homebuyers and sellers will remember it, come back to it, and contact you from it – which translates to more sales and commissions for you.
Keep in mind that it is not necessary to implement all of the strategies listed here. Implementing just one or two key concepts can result in decisive improvements to your website, and more business! The important thing to remember is you don't need to spend hundreds of hours and thousands of dollars to make your website your own. Set aside about an hour a week to focus on updating your website and be creative. You'll be surprised at the results you can get!
If you are interested in the benefits that the new iHOUSE ELITE Websites™ can bring to your business, Take a Free No Obligation Test Drive. No credit card is required and it automatically expires in 14 days. And remember iHOUSEweb's Web Marketing Consultants and Customer Support Representatives are always here to help!