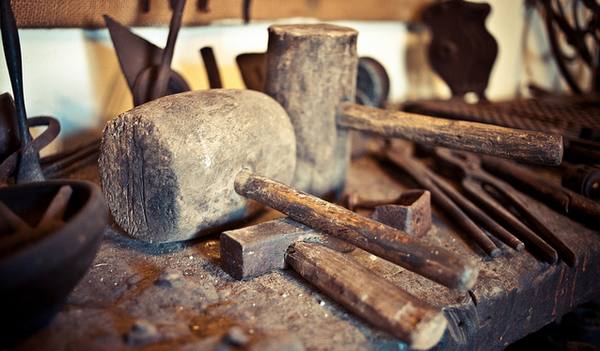 Twitter can be a great marketing platform for you. It can also be crazy-making because if you're watching from Twitter.com you can't really tell what's happening.
Fortunately tools have been developed that can make your Twitter-life much easier.
What you want first of all is a tool the streams Twitter live – that is, the tweets you want to see appear automatically within seconds of when they are posted.
You also want to be able to search and set up your view of topics in columns or some other form that makes sense to you.
Most tools will do at least that, and much more.
TweetDeck
The first, and the one I use most often is TweetDeck. Now owned and supported by Twitter, it's not only free, it lets you decide exactly how you want to see Twitter. It works on both Mac and PC (Windows) and there are apps for your Android and iPhone cell phones.
TweetDeck gives you a single interface or desktop (including on your mobile) that lets you organize Twitter in a way that makes sense to you.
The first thing you'll probably want to track is yourself – find out if anyone is using your Twitter handle and what they are saying.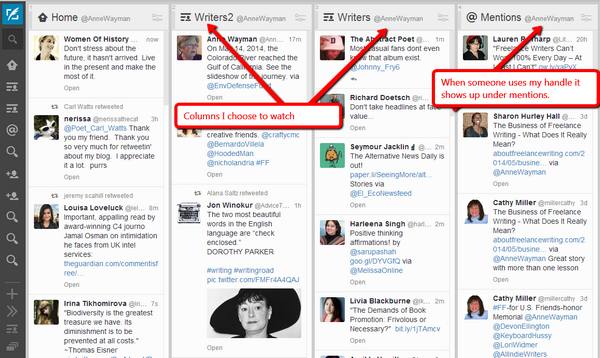 If you look closely, you'll see my name, Anne Wayman, on the far right column. I get mentioned when people retweet articles I've posted or when we writers just spend some time acknowledging each other or when someone wants to tweet me a message.
The other two columns I've got red arrows pointing to are Writers and Writers2. Obviously, as a write I want to track at least some of the tweets about my work and my industry. You can do exactly the same thing for your real estate interests.
Occasionally I'll set up a new column to watch something I'm especially interested in. For example, when we had 9 (!) fires in San Diego County last week, I set up a column in Tweetdeck called sandiegofires which allowed me to get the news I wanted. When the emergency was over, I deleted that column.
TweetDeck will also let you:
Filter search results – get exactly the results you want, although a broader view will usually work just fine, and may even be helpful because of the additional information.
Manage multiple accounts – most often a personal and a business account.
Set up alerts – which might be important to you.
Schedule your tweets – you can write your tweets in advance and schedule when they will appear on twitter.
TweetDeck is certainly worth looking at seriously.
TweetDeck is not the only twitter tool
There are at least a gillion tools to help you manage Twitter. Sharon Hurley Hall, a writer I truly respect, has a post on Daily Egg called 9 Must-Have Twitter Tools that Can Make You a Social Media Rock Star. It will give you a good overview of the kind of tools out there. If you decide you don't like TweetDeck, you could do worse than pick one of her favorites.
You can find any number of tools to handle Twitter out there, both paid and free.
My suggestion is spend no more than 30 minutes deciding what tool you want, then get to know it well. Use the Twitter tool to make tame Twitter and make it work for you.
Do you have a favorite Twitter tool? Tell us about it in comments.