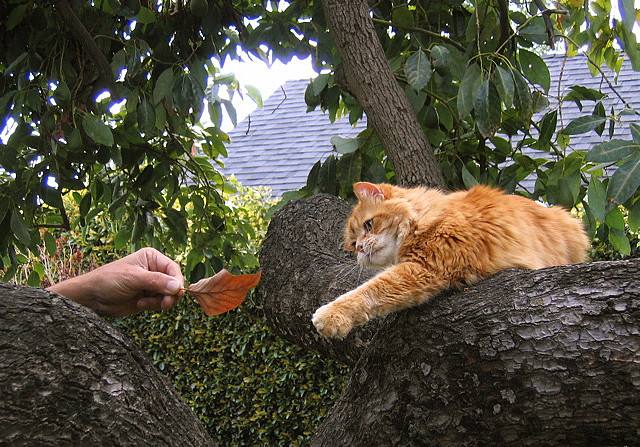 If you receive newsletters via email regularly, you may have noticed that some tease you and others don't. That is, some give you a whole article or two right in the newsletter itself. The articles may have links back to the senders website or not. Website access is gained through a link often at the top if the newsletter and there may be special offers or other information linked between the articles or below them.
Then there's the tease which gives only a snippet of information with the idea that the link in the title to the article will entice the reader to click on to the website.
There are good reasons to do either one. As the website Psychotactics.com points out, both ways work. (BTW, I might have ignored a site with that title if I hadn't already known there's darn good info there, and nothing nuts about it.)
The tease
If you subscribe to my AboutFreelanceWriting.com's newsletter once a week you'll get a newsletter that looks like this: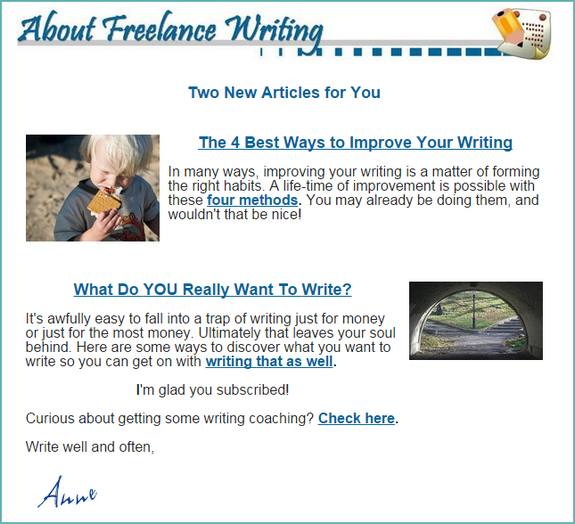 That's the whole newsletter! Since almost everything I write is evergreen I don't even date the newsletter itself, just in the behind the scenes info for my own use.
It's short, sweet and presents the reader with three choices. The first two are links to articles I've written – and there are two links to each article – the title is linked and so is a small portion of the snippet. Down at the bottom the reader has the opportunity to click on information about the coaching I offer.
I do it this way because back in the day when I got started, it was much more difficult to get traffic and to put together newsletters than it is today. My goal is really to drive traffic to my site and this way works.
Using an entire article
You can post an entire article or even two in your newsletter – lots of people do it and have great success. They will tell you their readers are less frustrated when they receive whole articles than with a tease. I'm sure it's true, for their readers.
If you want to experiment try sending out two or three newsletter issues with a whole article then send out two or three with teases. Watch your stats carefully. It can also be fun to survey your readers asking them which they prefer – if you do, don't be surprised if their answers are different than your stats tell you.
6 of one, half a dozen…
Like so many things in marketing, my hunch is you'll get roughly the same results with each method.
Think through what you want your newsletter reader to do – how do you hope to engage them – to go to your website, call you, register for something else, read an article, look at your listings, etc. etc. etc. Decide which way you think will get you the results you want and go for it. Unless, of course, you'd rather do it the other way.
Got questions about your newsletter? Ask them here, and we'll get answers for you.