All of our Elite website designs are now responsive. Yep, all of them. And not just new designs for new customers. Over the last several weeks, we have very carefully converted thousands of our customer websites to be responsive, making sure everything looks just like it did before on the desktop version. Every website template in our design gallery, and over 90% of our customer websites are now responsive. Why would we do that, risking the anger of customers who were fine with what they already had? Read on.
What do you mean "responsive"?
Responsive web design is an approach to web design aimed at crafting sites to provide an optimal viewing and interaction experience—easy reading and navigation with a minimum of resizing, panning, and scrolling—across a wide range of devices (from desktop computer monitors to mobile phones).

Wikipedia https://en.wikipedia.org/wiki/Responsive_web_design
So, for example, the desktop version of your website layout might have 2 or 3 columns. On a mobile device these will get stacked into a single smaller width column. For legibility, text remains the same size, while images are shrunk down as needed to fit the new smaller column widths. The site navigation menu changes radically to fit the new form factor.
A Better User Experience
Better usability means a better bottom line for your business. When your website is easier to use, people spend more time on your site, you get better conversion rates, capture more leads, and ultimately get more business.
Mobile Use Is Growing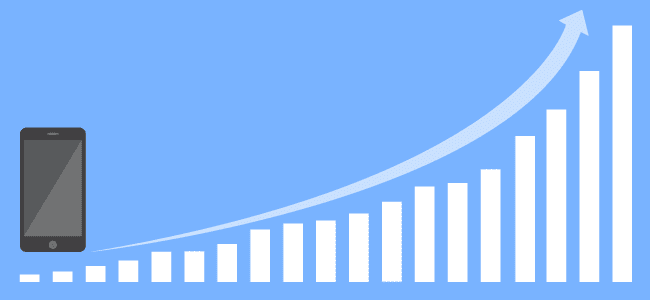 More and more people are using their mobile devices to access the web. Some articles even claim that mobile usage has already surpassed desktop usage. Now we haven't found that to be quite true for our own website – our mobile traffic still only makes up around 25% of our total visits – but the general trend IS true. Mobile traffic is growing and your website needs to be ready for it.
Future-Proof Websites
While websites of the past were built exclusively for desktop computers, today we have to account for every device under the sun: iPhones, iPads, Androids, tablets, phablets, TV's, and watches, each with their own screen size and resolution. Detecting and designing for each of these individually would be impossible.
Instead of designing for specific screen sizes, we create 3 basic layouts: small, medium, and large, and then allow the content to scale automatically to fill the space. This allows your responsive website to work like the elastic band on a fine pair of undergarments. Each "size" works to cover a whole range of screen sizes.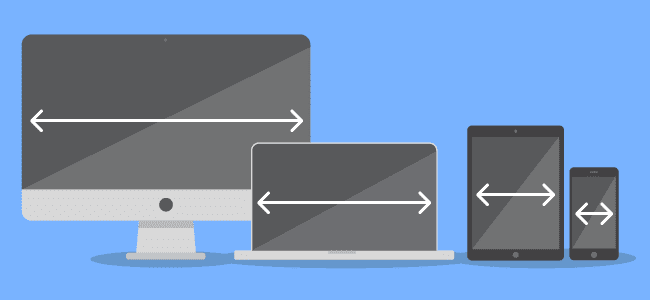 This ensures that as new devices and screen sizes come out, we are already prepared for them.
Easier to Maintain
Compared to creating a separate mobile version of your site, a responsive website is much easier to maintain. You can publish your content once and have it be available everywhere – across all devices and sizes. This is especially true for Content Management Systems (CMS) like our iHOUSE ELITE Websites, where at least part of the time you are the content author and publisher. You just need it to work.
Faster Page Load Speed?
A lot of articles out there get this one wrong. Responsive sites are NOT somehow magically faster – at least not yet. They are exactly the same as loading a normal desktop site. When you combine this with a slow data connection and an underpowered graphics processor on a phone, it can be a real killer.
The main culprit here is images. Even though your mobile phone displays smaller images than desktop, it still has to download all the desktop sized images.
The good news here is that we are close to a solution – one that all the major browsers and are adopting. The new "picture" element and image "src-set" will let your device choose from several sizes of images and download the one that works best for it. Mobile phones will be able to download a smaller version and high resolution desktop displays can download a larger version.
As new technologies like this become mainstream, we'll be implementing them into our iHOUSE ELITE Websites to make sure they load as fast as possible – on mobile AND on desktop. 
Better For SEO
Earlier this year, Google started penalizing websites that were not "mobile-friendly" in their mobile search rankings. Technically our Mobile IDX Search already meets their criteria and passes their mobile-friendly test. However, a better goal is to make your whole website accessible to every device, not just the IDX Search part of your site.
Even though we still offer a Mobile IDX Search as one of our product features, we recommend that you turn it off. Your responsive website is better. It has all the same IDX Search functionality PLUS your branding, colors and custom content. Unlike Mobile IDX Search, your responsive website's mobile version uses the same URL's as the desktop version, with the same content available. This is a better user experience and is easier for the search engines to index.