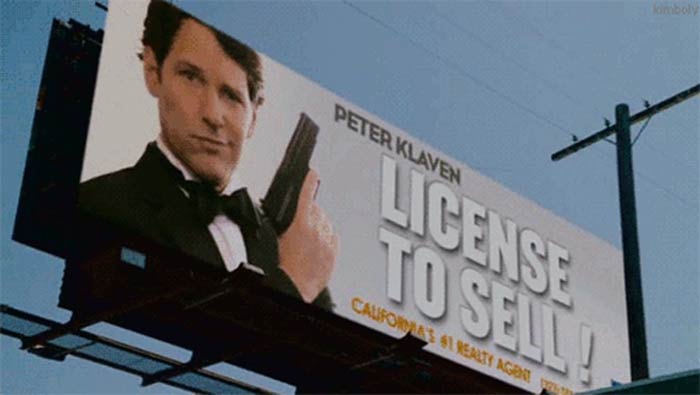 So let's be real. You're not Peter Klaven from the movie I Love You, Man.
You're just you. A real estate guru with a website provided by yours truly, iHOUSEweb. You want to strengthen your online presence but don't want to lend thousands of dollars to your Rush obsessed friend who wants to surprise you with ridiculous billboards all over the city that have your face Photoshopped on them in order to close a deal with Lou Foriggno. We get it. That's a little much. Let's take a more practical approach.
It's time to give your digital lead generating companion a facelift. Sub par images and drab content that hasn't been updated since 2012 isn't going to fly anymore. It's time to say enough is enough and get on top of your website game with these simple tips and best practices. After all, you do have a license to sell!
Tip #1: Who The Heck Are You?

Not Peter Klaven, remember? You're you and before you can sell a home you have to sell yourself. All too often I see real estate websites that are done anonymously and try to project themselves as some large corporation when they aren't. Or the stock content when a customer first comes on board with us is never altered or updated. Don't make this mistake. Consider the About Me/Welcome Text section on your real estate website a blank canvas. It's time to get creative. Want to generate more leads? Make it personable.
"Who is this person? What can they do for me?" Are the questions you should be answering in this section. Sell yourself. The About Me section/About Us page on your website is your chance to talk all about you, build credibility and make people want to work with you. Give it personalty and make yourself stand out. Subtle persuasion can go a long way, just try not to sound pretentious.
Avoiding the "I'm SO Freaking Wonderful" Syndrome
Whoa there, don't get too carried away. This isn't a dating profile on Match.com. This is Real Estate so let's keep it professional. All too often websites will seem to cater more to the ego of it's creator than to it's prospect. Be humble!
Your website should be focused on what's in it for your website visitor and what you can do for them – not telling the world how great you are. Remember, the end user will always be more interested in what you can do for them in their search for the perfect home, not how amazing you think you are.
Tip #2: Image Quality (And How to Improve It)
Content is king, and when it comes to the image content on your real estate website, high quality images are imperative to your end users experience.
Nothing is worse than a kitchen shot with a kitty litter box hanging out in the corner or dirty dishes piled all over the counter. And your headshot? If your agent photo is a picture of you at a party with a drink in your hand and your arm around someone you've cropped out, you're doing it wrong.
Fortunately, most of us have smartphones, and most smartphones take pretty decent photos nowadays. Most have an average resolution range of about 8-12 magapixles so if you're using your smartphone to take listing photos off properties, thankfully pictures turn out pretty good… But you shouldn't stop there…
Editing Your Images For Your Website
Don't fret friend, no Photoshop experience necessary here. The majority of the features I'm about to discuss are already built in to your phone's camera app. Doctoring them up is easier than you think. Depending on how your photo turns out, try making adjustments to the light balance. Maybe increase the color saturation and lighten excessive shadows to help bring out the photo's subject matter. A little enhancement can go a long way. Lastly, be sure to make sure your images aren't stretched, blurry, or pixelated. This is mandatory!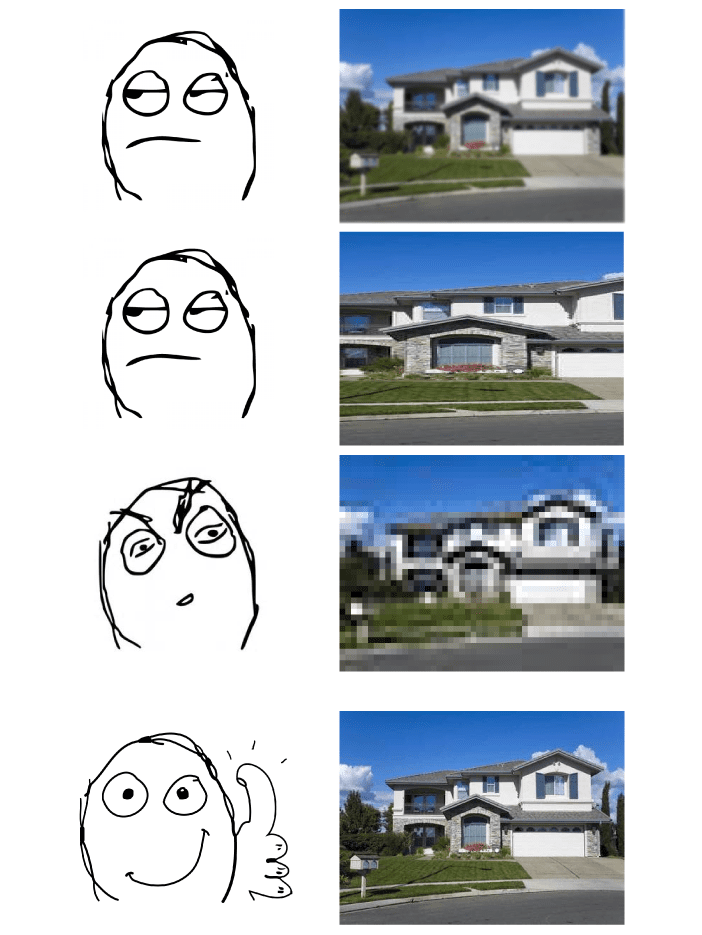 iOS
If you have an iOS device (Apple iPhone) simply view the photo in your camera roll, and tap Edit at the bottom of your screen. You'll then be presented with a plethora of options to adjust colors, crop, and even apply filters.
Android
On (most) Android based device these editing options can be found by tapping the Pencil icon on the bottom of the screen when viewing the photo in your library.    
When It's Too Much
Don't get too crazy. This isn't Instagram. It's important to keep your sites images tasteful when making edits. Just enhance them. Don't overdo the effects or adjustments. Over stylized images can have a pretty negative effect on end users if done poorly. This is where good judgment needs to come in.
Does the image look better than it did? Is it more aesthetically pleasing and not overcompensated? Good, then you're done. Maybe get a second set of eyes on your edited images to insure they don't look too over the top before uploading them to your site. Nobody wants to see an image of a house that is tinted green as a side effect of over saturation. You want users to go "oh cool! That looks nice", not: "this house is green, nope!".
Tip #3: Taking Advantage of iHOUSEweb's ELITE Service Team

Well this one should be a no brainer. Since we're on the subject of facelifts, the customer service department here at iHOUSEweb has gone under some serious reconstruction lately itself. We have reborn our customer service department with the mantra of "We'll Take Care Of It For You!".
Well what does that mean exactly? Let me explain.
Want to redesign your website using a new template?
Need to add new pages?
Create more saved searches?
Add a new agent to your roster?
How about a proactive tuneup to make sure your website is in tips top shape and getting you the most return on your investment?
We'll Take Care Of It For You.
So what does this cost? Nothing. It's absolutely free. No other REALTOR® website provider offers this level of service — for every customer and every website regardless of package.
Taking Advantage of ELITE Service and Making an Appointment
Feel free to talk to us on your own schedule. Schedule an appointment online and we'll call YOU. Because we know that REALTORS® are busy and we want to fit around your schedule, not the other way around. You can schedule an appointment from your website's admin menu, or by clicking here.
Happy Selling 🙂