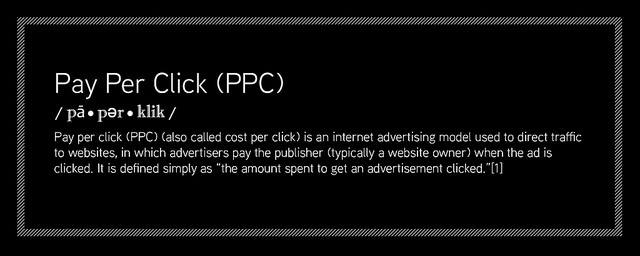 Should real estate agents use pay per click advertising? As with all things marketing the correct answer is 'maybe.' Let's take a closer look.
What is Pay Per Click?
In it's simplest form Pay Per Click, aka PPC  hapens when you place an advertisement on a website and pay the owner of the site X dollars or X cents every time someone clicks on that ad. You're most likely to see this when you do a google search. On the example below, the first three entries on a search for San Francisco Condos are marked with a yellow Ad tag. Those are PPC ads .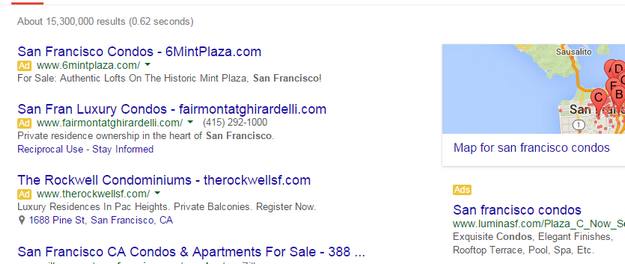 In this case all three lead to specific condo projects rather than to real estate agencies. But the term San Francisco Real Estate does take the person who clicks to a real estate agency site.
Although using PPC is probably most used for ads on search engines (also known as SEM which means Search Engine Marketing), it's possible to buy PPC ads on other websites.
Where are your targets looking
PPC can be cost effective, but you've first got to know your target market. It's so tempting to think that anyone and everyone wanting a home in your area is part of your target market. While this could be true if your area is really a clearly defined neighborhood in a large city, or a truly small town, the chances are you need more than just that.
If you've been in the business awhile you already have the information to zero in on your target market. Think about your last, say, three sales and your last three listings. What did those people have in common? What made them different from each other? What result did they want? What result did they settle for?
Time spent pondering these questions will help you build a picture of your ideal client, right down to their age range and their dreams and goals. Get that written down. Look at it every time you write an ad or an article or post a blog, and every time you make a new sale and get a listing.
If you're a new agent or new to your service area, it probably makes sense to wait until you have some listings and sales under your belt before you seriously consider PPC.
Now that you know your target client you can begin asking them if they search online for real estate and if so where.
Get them to be specific. It's surprising how so many will say things like "oh, the internet," thinking that's a helpful answer.
If they say 'google' ask them what search term they used. These answers begin to build a picture of how your ideal client actually uses the net looking for property.
Understand how PPC works
You need to be crystal clear on how the PPC program you'll be using works. If it's google, you'll need to understand Adwords. They do a pretty good job explaining things. Even so, take your time. Set a budget and stick with it. You can always change it the next go 'round.
If you're using some other PPC system, you need to be sure you understand it as well.
Don't let anyone talk you into spending even a nickel more than you can conservatively afford. A good case can be made that you don't need PPC in your real estate business – at least not until you've got your content well in hand. Over and over again Google emphasizes that content is key – they mean it.
Make sure your website is ready
There's no point in buying PPC if your website isn't ready for that traffic. Generally that means creating specific landing pages where your PPC ads will point to. Don't bother pointing to the home page. Set up a page that links to your listings and IDX just for the PPC campaign. Another page could be a list of helpful articles, although listings tend to pull better. You can, for example, include a link to your top 3 articles on the page that links to listings.
Test, test, test
Before you pull the trigger and actually commit to a PPC campaign, test your website as many ways as you can. You don't want to spend money and have the ad point to a missing page because you didn't get the link exactly right.
Pay Per Click is just one of the many tools available for marketing your website. You can live without it, so take your time. Carefully thought out from budget through execution can be a needed boost.
Interested in PPC for your Real Estate Website? Check out iHOUSEweb LeadBuilder. 
If you have questions about PPC, ask them here and we'll get answers for you.