Do you remember the days when you could post whatever you wanted to your Facebook business page and a million people would see it, like it, share it, and then buy a house from you? Okay, me neither. But there was a time, in the not so distant past, when you could post or share something on Facebook, and the people who'd liked your page would actually see it.
These days, you're lucky if even one percent of your followers see your posts.
The given reason behind the change a few years ago makes sense when you think about it. Facebook algorithms make sure people see the things (and people) they interact with. If no one is liking, sharing, or commenting on the things you post, eventually they won't see them anymore. The assumption is that either you're not posting good stuff or your followers don't care about what you post.
Of course, the change also came at about the same time Facebook made paid advertising an option for business pages, too. (I'll let you connect the dots on that one.)
Instead of Facebook remaining free advertising for every business in the world, it should now be treated like most other marketing tools – you get a little for free, and you get more when you pay for it. With a few tricks, you can get a lot and only pay a little.
Boosting a Post Without Spending Too Much
One of the most effective ways to reach people on Facebook is to pay to boost a post through your Facebook business page. Sure, Facebook will give you options to pay anywhere from $20 up to $1500, but with a few tricks, you don't have to spend that much money. For less than the price of a cup of coffee, you can get eyes on your Facebook page and the content you're share – listings, blog posts, neighborhood information, you name it.
Full disclosure: I found this trick while researching marketing options for authors.
Create a post. Make it a listing with a great picture or a blog post from your site. Tip: If you upload an image, make sure only 20 percent of it includes text.
Click "Boost Post." Remember, this only works from a business page – not your personal profile.
Choose "People you choose through targeting." You have other options, but if you want to get eyes on a listing or find new followers, this is the best one.
Click "Create New Audience." This is where you'll set the parameters of who will see your post. The next time you boost a post, you can use the same audience and edit it a little or create a whole new audience.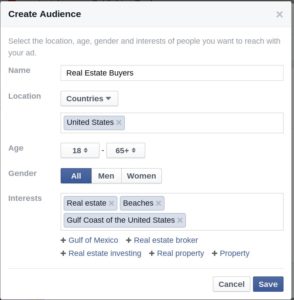 Enter your criteria.
Name your audience (Sellers, Buyers, Real Estate Leads, whatever you choose)

Choose a country. Depending on your marketing plan and who you want to attract to your page, this may change – especially if you're branching out into international real estate.

Pick an age range. For this, consider your ideal customer. Do you work with older clients, boomers, millennials? It's okay to pick a broad range, too.

Choose gender. Your choices are all, men, or women. Again, think about your target and the post you're boosting.

Fill in "Interests." Basically, this is a keyword search. As you begin typing, options will become available that you can click on or reject.

Click "Save" when you're done.
Scroll down to "Budget." Facebook will default to $20.00 or so, and when you click on the drop down, you'll see pre-determined options. Look lower. You want "Choose Your Own."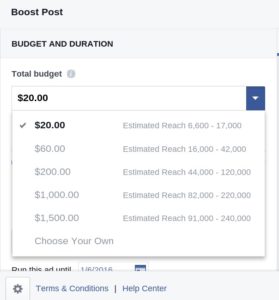 Pick a dollar amount, any amount. For $1.00 or $5.00, you can get hundreds, if not thousands of eyes on your post. If someone shares it or comments on it and their friends see it, you've gained even more views without spending any more money.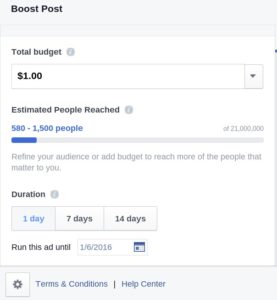 Determine your payment method. Your credit card won't be billed until at least the end of the campaign. The last time I boosted a post, I wasn't billed until the end of the month. Either way, you need a payment method on file.
Click the button that says "Boost." At this point, you'll be waiting for Facebook to approve your post. Sometimes it takes minutes and sometimes hours. If there's a problem (like an image with more than 20 percent text), you'll receive a notification so you can correct the issue. The campaign lasts until your entire budget is spent.
In my experience, the time of day and day of the week you choose can affect the potential reach of your budget. Play around with it, and if you're still unsure, start with $1 for 1 day and see what happens. You've got plenty of options, and depending on the audiences you create, you may find that your posts targeted at sellers do better on a different day than listing posts aimed at buyers. The point is you don't have to spend a lot of money to boost your post, find new followers, and (hopefully) use Facebook as an effective marketing tool.